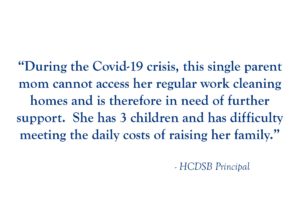 HCCEF is an independent charitable organization, registered with the Canada Revenue Agency. Since 2012 we have partnered with the Halton Catholic District School Board (HCDSB) to support their students and families in need. Schools identify the student or family in need, and apply to HCCEF for assistance. Funding is used to purchase the need on behalf of the student or family (i.e. basic necessities or school activities with a fee). We do not receive any direct funding from HCDSB.
Mission Statement
To help HCDSB students succeed at school by providing financial support to families in need.
Vision Statement
All HCDSB students have equitable opportunities at school, regardless of financial barriers.
---
Schools looking for financial assistance for your students.

---
We have signed the AFP Code of Ethics & follow the Donor Bill of Rights
Charitable Registration # 86895 7622 RR0001