PLANNED GIVING
HCCEF JOINS EFFORT TO INSPIRE CANADIANS TO THINK DIFFERENTLY ABOUT CHARITABLE GIVING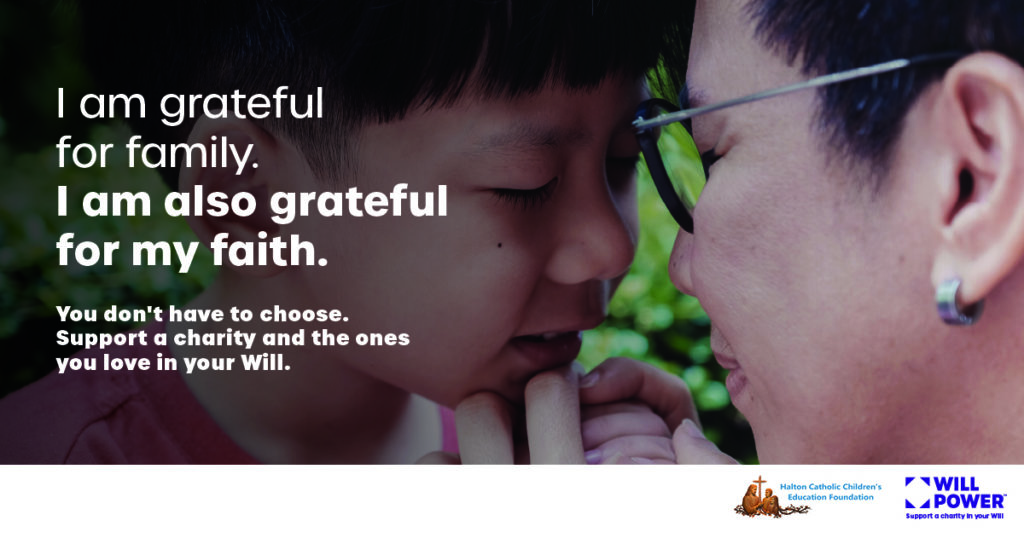 HCCEF has joined with more than 80 charities, financial advisors and legal services from across the Hamilton-Oakville-Niagara Region to show Canadians the power they have to create positive change through a gift in their Will to charity. Will Power™ is a public education effort aimed at empowering more Canadians to leave a charitable gift in their Will, which could raise as much as $40 billion dollars to advance the causes Canadians care about. Imagine the impact we could all make!
We at HCCEF know that Canadians are committed to helping. We see this every day through our work helping students overcome financial barriers to learning, and in conversation with our dedicated network of volunteers and donors. We believe it is important that more Canadians are aware that a charitable gift in a Will is another way to make a big difference.
Wills are not just a legal means to distribute your personal assets; they are powerful tools for social change. And it's not an either/or proposition – you can leave a gift in your Will to charity while still taking care of those you love.
The Will Power™ campaign has launched a website designed to make it easier for Canadians to plan their legacy giving. Here you can calculate the impact of your legacy gift while still taking care of loved ones, and connect with advisors to take your next steps.
As always, we encourage you to contact us to learn how your future gift will make a difference at HCCEF.
You will likely have lots of questions about how this all works. The Will Power™ website can answer your questions, starting with all of the basics. View our page on the Will Power Website
Thank you,
Marc Clare | Executive Director | HCCEF
clarema@hccef.org
905-802-0918
Our Impact
Poverty remains a powerful factor in whether a student succeeds in school. Many students in Halton face financial barriers to learning. Opportunities for many of our youth are not equal, due these financial barriers. Education directly influences students' life chances – and life outcomes. Every child deserves the opportunity to be successful, to be included and to build their confidence in a nurturing school community.
Our faith guides us to help our neighbours in need. As a Catholic Community, we need to show that we care. 10.5% of children in Halton live in low-income households – an estimated 3600 HCDSB students. Last fiscal year, we were able to help over 300 students. There is a significant gap in the number of students currently being helped and the potential number of students that could be helped.
Our Student Guardian Program helps students to overcome challenges in the following areas:
ACHIEVEMENT GAP – An achievement gap can form between students from low-income households and their peers due to financial barriers to learning.
MENTAL HEALTH – Mental health of low-income students is also a key challenge. Social exclusion, shame, anger, stigma, low self-esteem, low confidence and loss of hope are all issues related to student poverty.
How your gift will be used
Poverty remains a powerful factor in whether a student succeeds in school. Education directly influences students' life chances – and life outcomes. When you leave a planned gift to HCCEF, you provide opportunities for students to succeed in school and beyond.
Your donation to the HCCEF Student Guardian Program will help Halton students to succeed in school by providing financial support to overcome financial barriers to education. Your gift will provide students in financial need with basic needs (i.e. food and clothing) and access to school experiences (i.e. grade 8 graduation trip; sports team fees), so that they have the same opportunities as their peers.
Your donation will help students who find themselves in challenging situations like these students:
A homeless mother & son on the path back to stability.
A family, whose mother has cancer, ease their worry during her treatments.
A young girl to increase her self-esteem and improve her social skills by experiencing a school trip of her lifetime.
A high school student with family, social and mental health issues to experience success through the Ontario Youth Apprenticeship Program.
Siblings with their sense of worth and feelings of acceptance by providing back to school clothes and supplies.
A boy to maintain his dignity by keeping his feet dry and warm with new boots during cold winter days.