HCCF Charity Golf Classic – What a day!
James McInnis
Being outside & in person……check!
Spending the day at the golf course…..check!
Helping students & families in need…..check!
What a FANTASTIC day.
---
THIS IS WHY IT MATTERS THAT YOU SUPPORTED STUDENTS & FAMILIES IN NEED – THANK YOU
"Thank you so much! This is truly incredible…makes me a bit emotional even. This money is going to make a massive difference for this family. They are truly struggling, and this will bring joy and Christ-like love to a place of need and gratitude." HCDSB Teacher
"The student was able to wear his new suit to the graduation. He was so proud and the happiest he has been in a very long time because he felt like he "belongs". This is the first time he has had clothing that fits him. Thank you for making this possible!!" HCDSB Principal
"The impact is very significant for the family. The family works very hard to support their children. This student really struggles when he is home alone as both parents work and so do his siblings. He has experienced great difficulty and the school had to intervene to support him at home. This camp is so beneficial for him to be engaged and support him not only so he won't be home alone, but also in building relationships." HCDSB Social Worker
---
THANK YOU TO OUR:
You helped to make the day such an incredible success in raising over $22,000 to help HCDSB students with Financial Barriers to Learning. Thank you!
We hope to see you next year.
---
CONTEST WINNERS
Hole in One Contests – there were some close calls but no Hole in One Winners this year. Thank you for participating.
Hole #4 – Longest Drive Women – Marie P. (starting tee time of 1:50pm)
Hole #9 – Fastest Hole in Golf – Jim L., Frank M., Christina G., Francis D. (starting tee time of 1:50pm) – 1 min. 35 sec.
Hole #13 – Closest to the Pin – Lisa M. (starting tee time of 12:40pm)
Hole #14 – Closest to the Keg – Carlos P. (starting tee time of 10:40pm)
Hole #18 – Longest Drive – Men – Inigo N. B. (starting tee time of 1:40pm)
Winning Team – Ryan K., Mike S., John S., Pat B. (starting tee time of 12:30pm) – 10 under par
50/50 Draw Winner – Congratulations to Grace & Brandon M., who won $685
Congratulations to all of the contest winners. We will contact you to make arrangements for you to receive your prize.
---
PICTURES FROM THE DAY
Visit our Facebook page to view the pictures from the event.
Be sure to follow us on our social media platforms: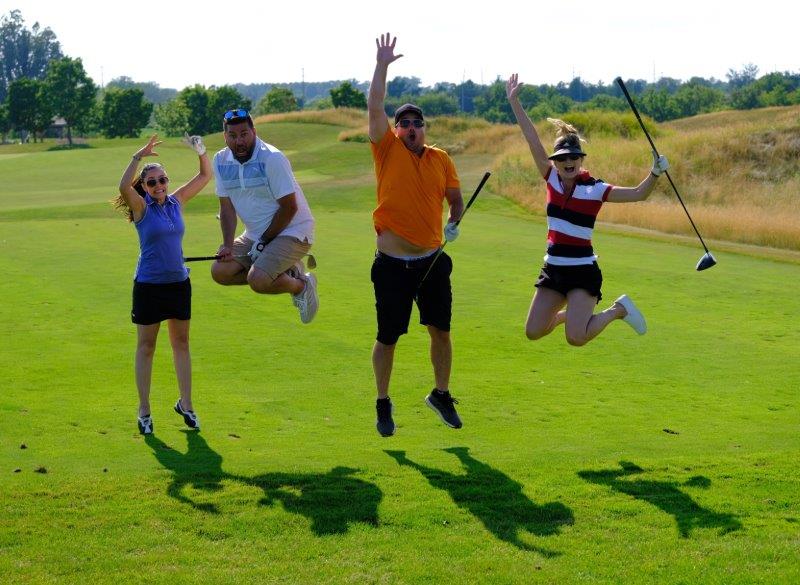 ---