HCCF Charity Golf Classic – Another Awesome Day to Help Students in Need
Marc Clare
Being outside & in person……check!
Spending the day at the golf course…..check!
Helping students & families in need…..check!
What a FANTASTIC day.
---
THIS IS WHY IT MATTERS THAT YOU SUPPORTED STUDENTS & FAMILIES IN NEED – THANK YOU
"God answers prayers, thank-you so much for the funds. I just lost my job yesterday and am grateful."
HCDSB Parent
---
"This family felt so very blessed to have had the opportunity to have this money to help their daughter.
They could not thank-you enough, because of this sup- port they will be able to have counselling support to help her mental health and keep her stable. Father stated, 'this is so amazing, I have no words'."
HCDSB Social Worker
"This gift is a great financial blessing for both myself and my family, and it will take off the burden of the expenses of a further education. Thank you very much for your generosity and helping make it possible for me to fulfill my dreams. It will absolutely be used with passion and motivation!"
HCCF Graduate Award Recipient
---
THANK YOU TO OUR:
You helped to make the day such an incredible success in raising over $23,000 to help HCDSB students with Financial Barriers to Learning. Thank you!
We hope to see you next year.
---
CONTEST WINNERS
Longest Drive Women – #4 – Winner is Sue Robling
Hole in One – #8 – Car Lease sponsored by Oakland Ford – no winner this year
Fastest Hole in Golf – #9 – Winning team is Mike G., Aaron C., Chris C., Clark Mc. with a time of 1 minute 25 seconds (super fast)
Closest to the Keg – #14 – Winner is Jim Hession
Closest to the Pin – #16 – sponsored by Green Germann Sakran – Winner is Eugene Coady
Longest Drive – Men – #18 – sponsored by Sunset Industries – Winner is Mike Wiebe
Winning Team – it's a tie. Both teams with a score of 10 under par – well done

9:10am tee time – Donald C., Stephen T., Bob G. & David B.
12:30pm Tee Time – The Wiebe Family – John, Mike, Mark & Zenon
50/50 Draw Winner – Congratulations to Brandon Freeman, who won $915
Congratulations to all of the contest winners. We will contact you to make arrangements for you to receive your prize.
---
PICTURES FROM THE DAY
Visit our Facebook page to view the pictures from the event.
Be sure to follow us on our social media platforms: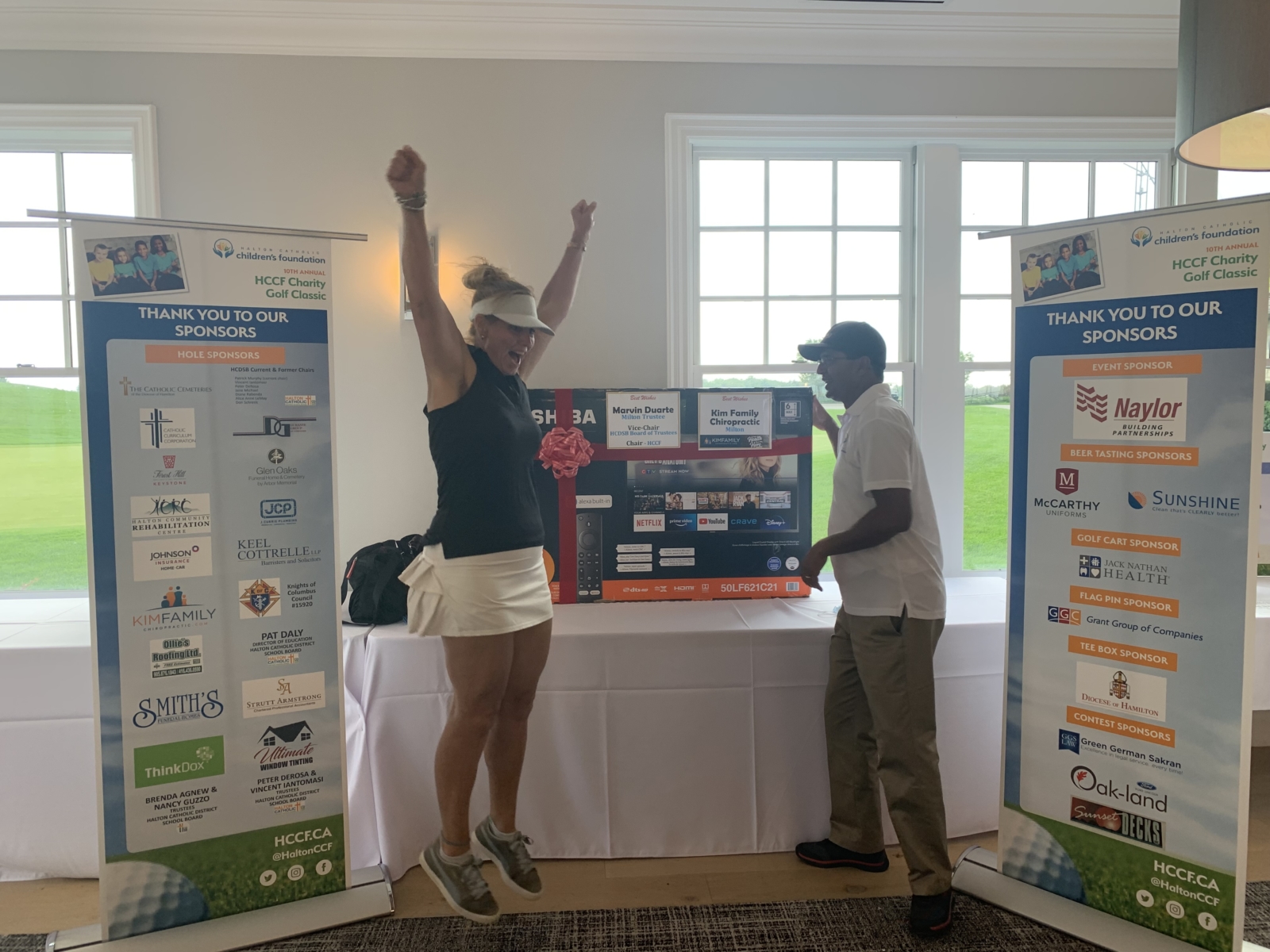 ---