COVID-19 – URGENT RESPONSE FOR HCDSB FAMILIES IN NEED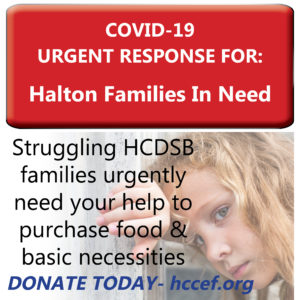 WHY DONATE?
Families need to eat, and they require other basic necessities like clothing, personal hygiene items and a home to live in.
Our faith guides us to help our neighbors in need.  "…whatever you do for the least of these, my brothers and sisters, you do for me…" Matthew 25:40
Many HCDSB families are struggling with basic necessities due to the COVID-19 crisis
We need your help, to continue to say "Yes" to supporting families with basic necessities……to say "Yes we can help" to our neighbors in need.
DOUBLE YOUR IMPACT. One of our generous donors has agreed to MATCH all donations up to $10,000 in total – April 16 to May 15, 2020.
"A newcomer family has asked for support with groceries. They are a family of 5, with students in the elementary and secondary panel, and have expressed severe concerns about meeting their basic needs. I am co-ordinating this application with the elementary and secondary Principals. We want to send the family electronic gift cards to be used for groceries." HCDSB Social Worker
---
TEMPORARY MAILING ADDRESS DURING SCHOOL CLOSURES:
HCCEF, 802 Drury Lane, Burlington, ON L7R 2Y2
---
HCDSB Staff Payroll / Donation Form